It's a straightforward process to become a Mortgage Alternative buyer.  These steps explain the process we undertake so you know what to expect.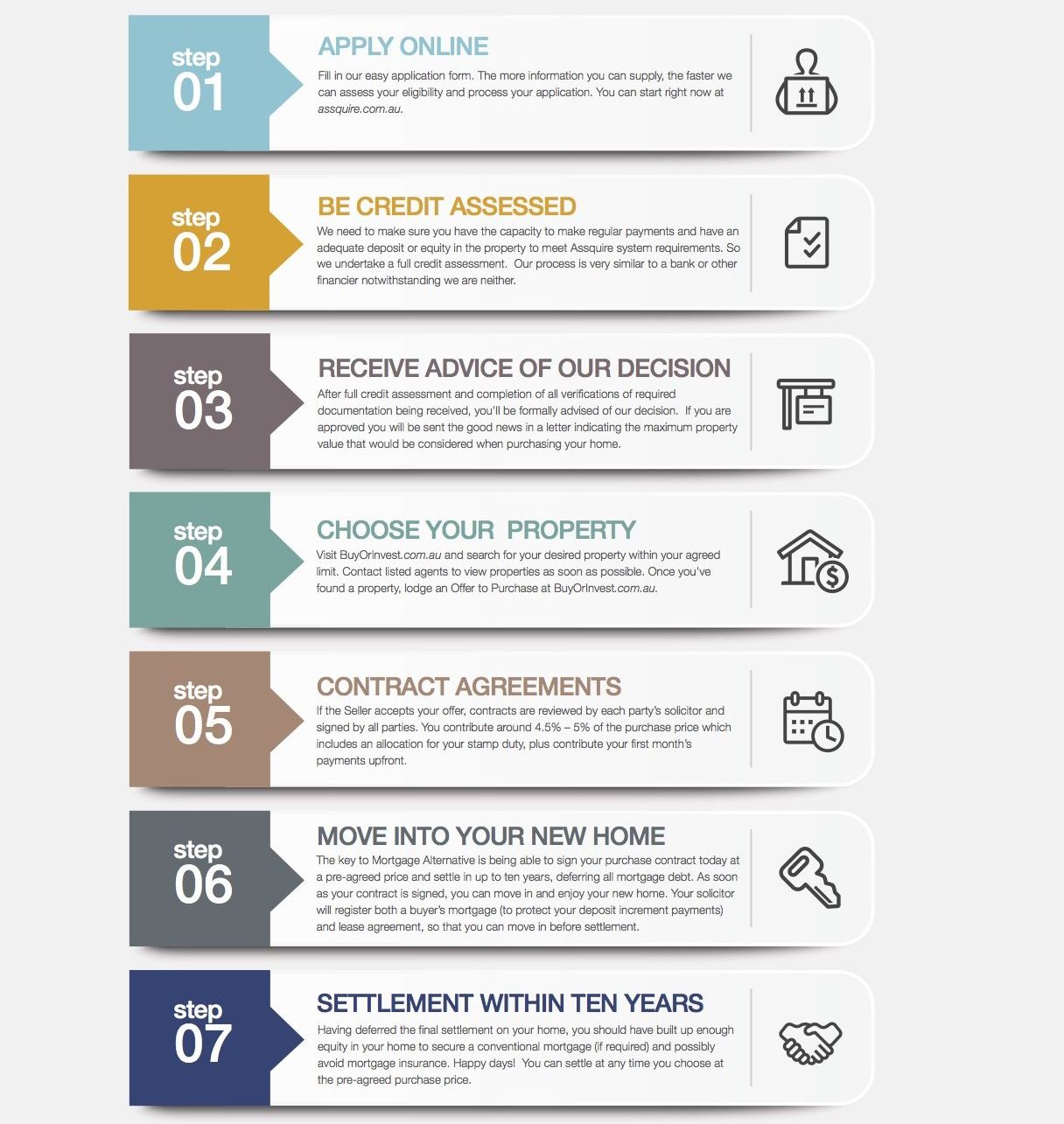 If you have at least 4.5% of your dream home price saved (or more and would like to keep the rest of your savings for another purpose), why not apply and see if you qualify? The Purchase Contract and associated legal documentation connected to the occupancy lease/contract together have special conditions which allow the purchaser to live in the property whilst they save their deposit (try doing that with a mortgage!) and to enjoy the benefit of up to ten years to settle. A landlord's maintenance obligations are handled more efficiently and easily during the contract period in a predetermined manner, through an up front independent building inspection report on the property prior to MA buyer occupancy commencing, and a second building inspection being established at the end of year 5, to have an independent party confirm the maintained state of the property as a reference point.
The free conditional application process is how you get started to see first if you qualify, and if so, what value home you may qualify for. It's simply a smarter way to home ownership. Lower entry costs and live in your home while you save a full deposit. That's new. Having deferred the final settlement on your home, you should have built up enough equity in your home by settlement time to secure a conventional mortgage (if required) and avoid mortgage insurance. Happy days! As not everyone will qualify, we make the initial application process free. A fee of $250 + GST will apply later, if you decide to proceed to full credit assessment.
What are the payments each month?
We will tell you what home value and what payments you will need to make each month, as part of the application process, and you will most likely need to visit BuyOrInvest.com.au to select a home within that price range. Before you make an offer to purchase, you will need a solicitor to explain the special contracts to you, before you will be accepted for Mortgage Alternative. So what are you waiting for? APPLY ONLINE to get the process started and enjoy the benefits.  
What homes are available?
Please be patient, as it's early days with Assquire investors cradling Mortgage Alternative home buyers. They first have to apply and list the properties on BuyOrInvest.com.au, so there isn't much to choose from just yet. That will change, and for some of you, allows you to save a little more first to qualify. So start saving, or continue saving, as this is the new pathway to home ownership in 2017! Remember too – the Assquire investors want to see you apply, and with lower entry costs and saving thousands in mortgage insurance, why wouldn't you? When you are there in numbers, so will the listings – what investor doesn't want stable secure contracted returns from someone who puts down a lot more than 4 week's rent as a deposit. 4.5% of a home's purchase price is a lot more than 4 week's rent, so you need to be sure Mortgage Alternative is appropriate for your circumstances. It's all about wider choices for you and for investors, but it won't suit everyone. Property investors will love someone who will look after the property before settlement as if it were their own – because that is the whole idea of Mortgage Alternative! Now that's not hard to figure out.
How to get started
Fill in our easy application form. The more information you can supply, the faster we can assess your eligibility and process your application. If you don't have all of the information handy or readily available now, you can save your data now and finalise your application later.